Mater Ecclesiæ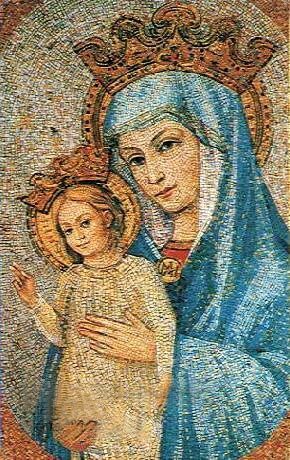 "After the assassination attempt on May 13, 1981, Vatican officials were evaluating the possibility of placing a plaque, or some visible sign, in St. Peter's Square in the area where the Pope had been shot, in remembrance of a painful page in the history of the Church but also as testimony of divine protection,"
Giovanni Battista Cardinal Re
discloses —
Inside story of Marian mosaic told on Bl. John Paul II's birthday
.
"John Paul II, convinced that the Virgin Mary had protected him on that day, immediately expressed the desire that an image of the Madonna be placed in the square," His Eminence continues, noting that "the Pope offered his opinion that he would like a representation of Mary as Mother of the Church, because, he explained, 'the Mother of God has always been united with the Church and has been particularly close during difficult moments in its history.' He added that he was personally convinced that the Virgin Mary was in St. Peter's Square on May 13, to save the life of the Pope."
Labels: The Arts, The Catholic Faith, The Holy Father, The Holy See